SpaceFox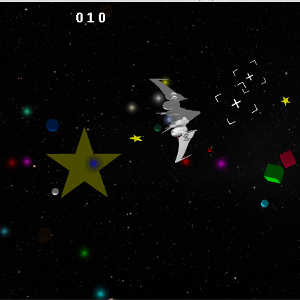 SpaceFox is a flight shooter inspired by StarFox.
Controls
w/s - increase/decrease pitch
d/a - increase/decrease yaw
tab - speed boost
enter - shoot
space - DO A BARREL ROLL!

Guide
Shoot objects in space to earn points!
Diamonds are worth 1 point and change color when hit
Stars are worth 10 points and create particles when hit.
Use the boost up to every 2 seconds to increase your speed temporarily indicated by redder engine and larger engine flaring before gradually returning to normal speed.
Score is displayed in the upper left hand corner. FPS are in the lower right.
Technical
I used libpng to load all textures. I used png as a standard with available alpha values.
I created my own data file formats to load in and initialize the various objects in space.
Pictures